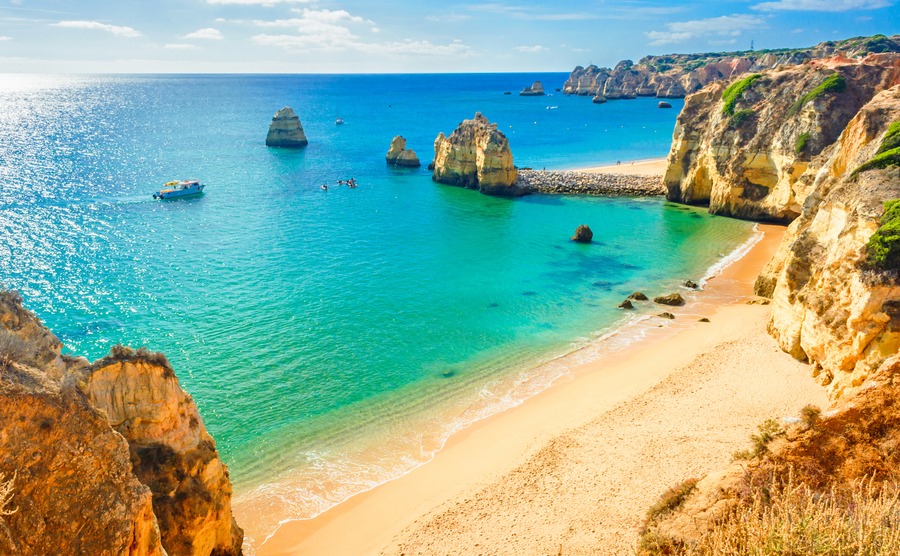 In terms of climate, Portugal's winters are mild and summers are hot and dry. The number of hours of sunshine per year reaches values as high as 3300 in the south of the country and 1600 in the north, some of the highest in Europe. The Portuguese are gracious and friendly, welcoming all visitors regardless of where they come from. And, in fact, visitors do come here from all over the world, as the country is located on the western coast of Europe and, as such, is a point of entrance into the Schengen zone. A large part of the population speaks foreign languages, specifically English and French. 
Portugal benefits from an excellent geographical location, being strategically located in the center of the world, at the meeting point between three continents – Europe, Africa and America -, it has always been central to the most important international routes. It has international airports all over the country – Lisbon, Faro and Porto that have regular connections to major cities in the world.
For instance, Lisbon and Porto, the two biggest cities are just two and a half hours away from Paris and London by plane.
Politically speaking Portugal has nine centuries of well defined geographical borders, a democratic parliamentary regime with political stability. Portugal is a member of the European Union and forms part of the European Monetary System, using the European single currency. It is currently viewed as the 3rd most peaceful country in the world among 163 countries (Global Peace Index 2017) and ranks 29th of 176 countries in Transparency International (Corruption Perception Index 2016).
In terms of health,life expectancy at birth in Portugal is 81 years, one year above the OECD average. Life expectancy for women is 84 years, compared with 78 for men. Portugal public health system is free and everyone can benefit from it, but private hospitals have been spreading throughout the country in the last years.
Major international schools and universities are present in the country with a vibrant and increasing community of foreign students.
Relevant contacts:
Foreign and Borders Service (SEF)
Avenida do Casal de Cabanas
Urbanização Cabanas Golf, 1
2734-506 Barcarena
Tel.: +351 214 236 200 / +351 965 903 600
Fax: +351 214 236 640